Cincinnati Tummy Tucks
A tummy tuck, also known as an abdominoplasty, is a powerful procedure for giving patients tighter stomachs and slimmer waistlines as well an improved self-image and all the confidence that comes along with it. With a tummy tuck, there's no need to fear the summer or feel self-conscious in a swimsuit any longer. When combined with a healthy diet and exercise, a tummy tuck can help people of all ages reclaim their bodies and look better than ever.
Tummy tucks are popular with women who have gone through one or multiple pregnancies, people who have lost large amounts of weight, or those who are simply dealing with the natural effects of aging. They produce excellent results for individuals with excess stomach fat or skin. You've probably seen the before and after pictures: for most tummy tuck patients, the difference is like night and day. If you're looking to get rid of troublesome lower abdominal fat, tighten your stomach muscles, or just feel better in a swimsuit, a tummy tuck may be a good option for you. For a 3D animation of a tummy tuck, click HERE.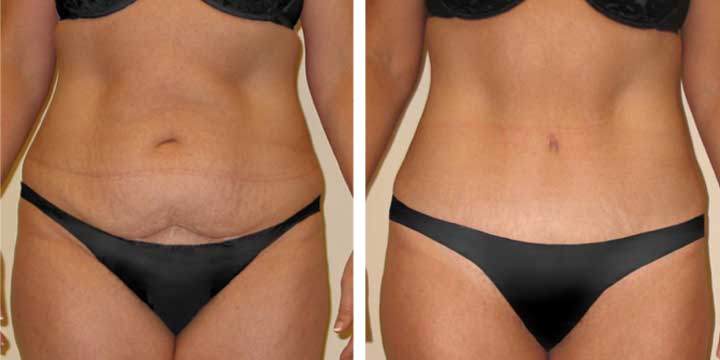 What makes a good tummy tuck candidate?
Just about everyone deals with some amount of excess skin or fat deposits on their lower stomachs. Even people who are in good shape can find it seemingly impossible to get a flat stomach. As we gain weight and our stomachs expand, our muscles and skin stretch along with them. On top of that, as we get older, our skin loses its ability to spring back when it is stretched. As a result, when we lose weight, our muscles and skin don't just snap back into place.
The ideal tummy tuck candidate is relatively fit but struggling with stubborn stomach fat or extra skin. This includes people who have lost a large amount of weight, gone through one or multiple pregnancies, or are experiencing decreased skin elasticity due to old age. While not a substitute for a healthy diet and exercise, a tummy tuck can give a patient the extra help they need to get the shapely stomach of their dreams.
One surgery, many benefits
Although abdominoplasty is a well-known procedure, most people are not aware of the many benefits it offers patients. First and foremost, tummy tuck patients can expect a tighter, smoother stomach. However, the benefits don't end there. By removing excess skin, a tummy tuck will also reduce unsightly wrinkles and stretch marks.
Moreover, the muscular repair that accompanies most tummy tucks often leads to increased core strength, which can help patients improve their posture and perform better when exercising or simply going about their daily lives. Lastly, the minimal liposuction involved in many tummy tucks gives patients more shapely waistlines, tighter upper thighs, and firmer pubic areas. Needless to say, abdominoplasties can have countless benefits for patients beyond just the cosmetic gains that many people associate with them.
Finding the right procedure for your needs
If you are considering a tummy tuck, it is important that you work with a skilled cosmetic surgeon who will develop the right procedure for your body. Obviously, the complexity of each procedure will affect how much a tummy tuck costs.
Individuals with limited fat deposits below their navels may be candidates for a partial abdominoplasty, also known as a mini tummy tuck. This minimal procedure can generally be performed as an outpatient surgery. For other patients, liposuction alone may be the best option for achieving their desired results. Liposuction, which removes fat deposits, is especially effective for shaping inner and outer thighs, as well as the fat deposits on the lower back affectionately known as love handles. A full tummy tuck generally combines abdominoplasty and liposuction for optimal results, removing excess skin and fat while tightening and repairing stretched muscles.
The surgery
Abdominoplasty is a low-risk procedure that typically involves a general anesthetic, although it can sometimes be performed with heavy sedation and spinal anesthesia instead. It usually takes about 3 hours from start to finish.
The doctor begins by making an incision between the hip bones and below the swimsuit line in order to avoid visible scars. Once the stomach skin is separated from the muscles, the muscles are cinched together, and any loose muscles are repaired. The doctor will then remove any excess skin and fat before using a combination of internal and external sutures to complete the surgery and ensure a healthy recovery with minimal scarring.
Tummy tuck recovery
Patients can expect to require prescription pain medication for 3-10 days following the surgery, depending upon their pain tolerance. Besides pain, normal side effects can include a feeling of numbness in the months after the procedure.
It takes most patients about 6 weeks to return to full strength, with light exercise becoming possible after 3 weeks. People with desk jobs can typically return to work in 7-10 days and are able to start driving again in 7-14 days. Those whose jobs require manual labor will need to wait longer, generally 4-6 weeks depending upon the intensity of their jobs.
How permanent is a tummy tuck?
Before and after your tummy tuck procedure, your doctor will give you all of the information and practices you need for a speedy recovery and optimal results. It is important to understand that a tummy tuck will not stop a patient from gaining weight again. Instead, maintaining the results of a tummy tuck depends on a balanced diet and exercise. With diligent care, however, the results can and will last a very long time.
Cincinnati's tummy tuck expert
Dr. Joel Maier has performed countless tummy tucks with exceptional results. He is passionate about helping his patients feel good about their bodies and works hard to keep tummy tuck costs as low as possible. Take a look at his reviews to see what his patients have to say!
Nothing is more personal than your body. That's why Dr. Maier takes the time to understand your goals and concerns, so you will always know that you are in caring hands.
If you live in the Cincinnati area and are considering a tummy tuck, call Maier Plastic Surgery Center today at 513-351-3223 to schedule an appointment and take the first steps toward your new body.
Please note that the information provided in this discussion is an expression of Dr. Maier's philosophy and practice.